As a tourism country, Thailand has many beautiful cities that are a pity to miss. One who stole the attention was Phuket. The beauty of Phuket deserves thumbs up.
Successfully entered into the ranks of the 10 best tourist destinations in the world version of the Travelers' Choice Award, Phuket has many interesting spots that must be visited by travelers. Moreover, natural attractions there such as beaches, viewpoints, and also a variety of Novotel Phuket with the best facilities offered are enchanting and interesting.
Well, for those of you who will soon be on vacation to Phuket, the following recommendations for tourist attractions in Phuket.
Patong Beach
In a way, Patong Beach is one of the most famous beaches among tourists, especially tourists from Europe. The white and clean sand of the beach and the blue sea water like crystal become the scenery that you will enjoy while you are here. Patong Beach can be enjoyed with various sports such as Muay Thai and Boxing.
If you are hungry, don't worry, because along the beach there are many cafes and restaurants that offer a variety of typical foods of the White Elephant Land. Although always crowded with tourists, but this beach still looks clean. Enjoying the sunset at Patong Beach is also an exciting activity that you should not miss while you are here.
Bangla Road
Still in the Patong Beach area, there is a street called Bangla Road which contains a row of bars, nightclubs, restaurants, and cafes. Being the center of nightlife in Phuket, many festive shows are presented on Bangla Road, one of which is the Lady Boy show that is highly anticipated by tourists. Well, if you want to spend the night here, make sure you don't bring children.
Old Phuket Town
Next is Old Phuket Town which also has to go into your itinerary! The location itself is not far from Patong Beach, approximately only takes about 30 minutes. The environment here is actually not much different from Little India in Singapore, because there are colorful old buildings. Old Phuket Town is recommended to be visited at night because at night there will be a lot of lights that adorn every corner of the road so as to enhance the atmosphere.
Karon View Point
Enjoying the beauty of Phuket from the viewpoint is certainly not to be missed. Actually, there are many scenic spots on Phuket, but the most famous is Karon. What makes it interesting is the treat views of 2 beaches at once offered by Karon for nature lovers. The two beaches in question are Karon Beach and Kata Beach. You can also see twilight from up here as well. The calm atmosphere shrouded in the breeze makes anyone who comes here will never feel bored. If you want to come to Karon, it's on a trip between Karon Beach to Promthep Cape.
Wat Chalong
A vacation to Thailand without visiting a temple feels incomplete. Not only in Bangkok, but historical temples can also be found in Phuket. Is Wat Chalong, the most historic temple in Phuket. Not only the historical value but what makes this temple is visited by tourists is the beauty of the magnificent and charming building. Wat Chalong is divided into several buildings. A large area of ​​the temple environment will make you satisfied walking around. Just like other temple tours, visitors must still obey the rules by not making noise and respecting Buddhists who are worshiping.
Phi-Phi Island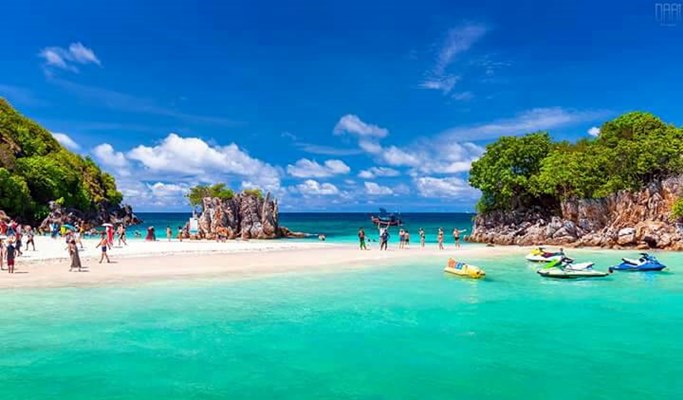 Well, this is the real exoticism of Phuket. Phi-Phi Island is actually a white sandy beach with very clear seawater. One look will definitely make you want to swim there right away. What makes this beach so charming is the presence of beautiful islands surrounding it. The scenery here is truly extraordinary, even the exoticism of Phi-Phi Island is well known to the corners of the world. No wonder this place is often used as a location for shooting Hollywood films. Unfortunately, Phi-Phi Island is now too crowded, especially on weekends or holidays.